KEY INSIGHTS:
• Experts are saying that if we do officially enter a recession, it'll be mild and short. As the Federal Reserve explained in their March meeting: ". . . the staff's projection at the time of the March meeting included a mild recession starting later this year, with a recovery over the subsequent two years."
• During a recession, the Federal Reserve will often lower interest rates to stimulate the economy, which can result in more favorable rates for borrowers getting mortgage loans.
• While everyone remembers 2008, history shows home prices don't always fall during a recession.
Economic uncertainty is definitely top of mind for everyone these days. While a recession may be on the horizon, the main thing to remember is that a recession doesn't mean a housing crisis. Historical data shows that you shouldn't be afraid of what a recession would mean for the housing market today. If you look at the last six recessions, four out of six times home prices actually appreciated. And during those same six recessions in our country, notice that each time the economy slowed down, mortgage rates decreased. So, historically, when the economy slows down, it doesn't mean home values will fall. No one can predict exactly how a recession may unfold. But by staying informed we can navigate through these uncertain times.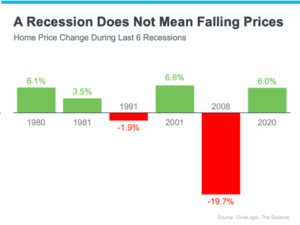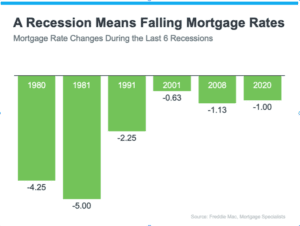 We have resources that we can share with you if you're interested. They should be able to ease any fears you may have about how a recession could impact the market.
Let's Talk.